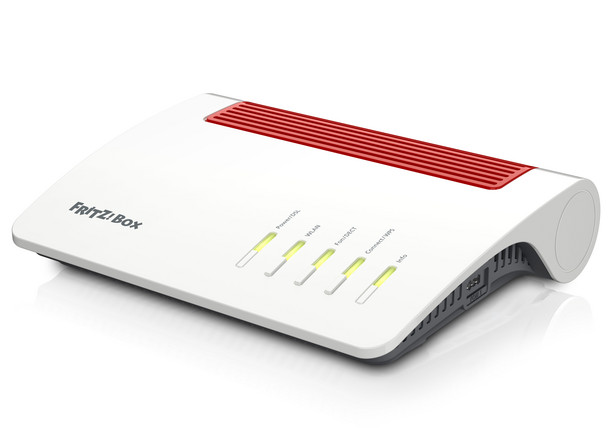 The FRITZ!Box is the central communication hub for small and medium-sized companies and educational institutions. Powerful Mesh Wi-Fi for every room, seamless migration of telephone systems and the ability to centrally manage a large number of FRITZ!Box routers – the award-winning FRITZ! products are a great solution for professional use.


FRITZ! for your business
Our FRITZ!Box routers are the ideal digital hub for small and medium-sized businesses: They connect computers, tablets, smartphones and printers together in one network and get them online. A secure connection to the head office is also available for branch offices or for those working from home. Ultra-fast, stable Wi-Fi ensures gigabit speeds on all devices. Guests and clients simply access the network via the separate Wi-Fi guest access. A high level of security and the option of remote access via MyFRITZ! round out the portfolio for use in a commercial environment.

Scalable and cost-efficient

Time-saving remote access

Stable and secure connections

See what's happening in the Mesh Overview
Extend your network with reliable FRITZ! products to create an optimal connection everywhere – with FRITZ! Mesh. At the touch of a button, FRITZ!Repeaters, FRITZ!Powerline adapters and FRITZ!Boxes used as Wi-Fi repeaters (Mesh Repeaters) adopt the settings of the FRITZ!Box (the Mesh Master) and are integrated into the same multi-room Mesh. This means that not only the Wi-Fi name (SSID) and password are adopted, but also other settings, such as for switching schedules, Smart Home and guest access.
With a FRITZ!Repeater you can quickly and easily increase the range of your Wi-Fi network. If you want to use a wireless access point at a greater distance from the wireless router, you can easily connect a FRITZ!Repeater with a LAN port to the router using a LAN cable and set it up at the desired location.

Do you want stable internet everywhere without having to lay extra cables? A FRITZ!Powerline adapter is the right choice for you. This allows you to provide a network connection or wireless access point wherever you want – even in places where there was previously no connection.

Not only the practical FRITZ!Fons can be connected to the FRITZ!Box, but also many IP telephones or multiple telephones at the same time. The FRITZ!Box functions as a telephone system and answering machine at the same time.

We are happy to advise you
Are you planning the implementation of a FRITZ!-solution or do you have any questions about AVM-products or cooperation? Then contact us, we will be happy to support you!